Driver's Choice Location
---
Our DOT physical exam office is conveniently located on the 2nd floor in the TA truck stop off of I-70 and Ward Rd/exit 266, the gateway to the Rockies.
Once inside the truck stop, head toward the back of the convenience store, then you will see a trucker's lounge/tv room. The staircase is opposite of that. Head up the stairs, and then down the hall, and we're the first door on the left.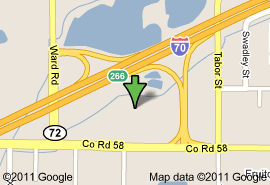 We are located on the 2nd floor of the TA truck stop. There is plenty of parking for big rigs and cars alike. We accept several types of payment for your convenience.


Visit TAs website to view all locations and amenities.